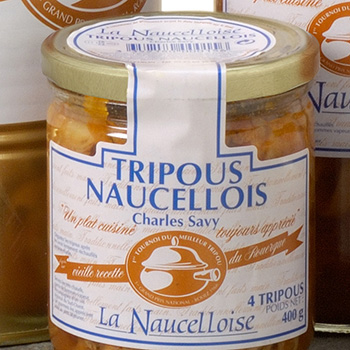 The naucellois tripou
Tripous has been the traditional dish of La Ségala and the Rouergue for a great many years.

Before 1900, they were made by the farmers' wives on a Sunday morning before the "Pagès" (farm owners) and their servants left for mass.

After the Toulouse-Rodez railway line was built and the farmers started going to the auberges, villages and stations, either for the markets, fairs or when the wagons laden with lime arrived, they were to become the must-have morning snack and then a tradition after the first mass where farmers and friends from various backgrounds met up.

In Naucelle, Mrs. Veuve Firmin Fraysse armed with the recipe of her employers (1905-1908) at the hôtel Rigal butcher's shop, left the village and relocated to Naucelle-Gare. Up until 1908, she made this succulent dish cooked at the hôtel des Voyageurs adjoining the butcher-delicatessen store. Her recipe was then taken over by her employee, Mr. Savy to whom she sold her butcher-delicatessen business.

It is this "tripou"-style of making veal tripe that was to obtain the 1er Grand prix national du meilleur tripou (highest national award for the best tripou), awarded and judged by the members of the Tripière d'or de Normandie, presented and made by Mr. Charles Savy, in Naucelle.